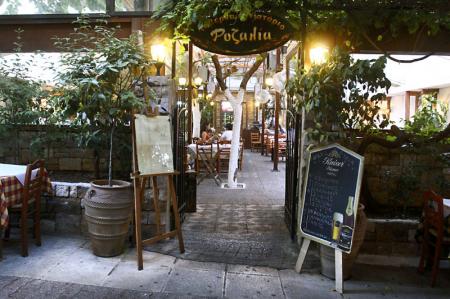 As soon as you find yourself in Exarchia, in the centre of Athens, once you have arrived at the Valtetsiou mall from Emannuel Benaki St, heading for the square, it feels like you are in picturesque village. You will find on your way, two hundred-yr old olive trees, mulberry trees, plane trees, palms, flowers, arbours and Rozalia's tables, full of voices, flavours, and delicious smells.
The multicoloured lights of Rozalia, that fall between the leaves of the arbours, take you back to your childhood. The garden is an oasis of freshness in full summer. In winter, it is covered and heated to create a warm cosy atmosphere to lose oneself in, watching the rain fall on the glass outside.
Here, inside or out, we want to offer you food defined by quality and friendly service, an excellent selection of wine, modern popular music and rembetiko music, all at a very reasonable price. Open from 12 noon till late.
And because our garden is so impressive, it will be perfect for every major event of your life.