welcome
to Rozalia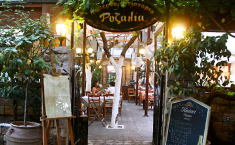 Rozalia is a taverna like no other. It is a green haven in the heart of Athens, in the neighborhood of Exarchia. It is an oasis of freshness in summer, and a cosy warm corner in winter.

For over 35 years, Rozalia has been a continuing story, written by students, artists, workers, and yourselves. Its owner Achilleas isn't seeking customers so much as satisfied friends.

For this reason the dishes are baked with the freshest and healthiest ingredients. The meats are of outstanding quality, and the fish is always fresh.

The cuisine combines traditional and contemporary flavours, but above all the dishes are prepared with care, they are tasty and affordable.

Open every day from midday to 2am.

Events at Rozalia
Stay tuned throught Newsletter
Fill the fields to receive our email with our news.
Contact with us
210 330 21 36
210 380 79 92